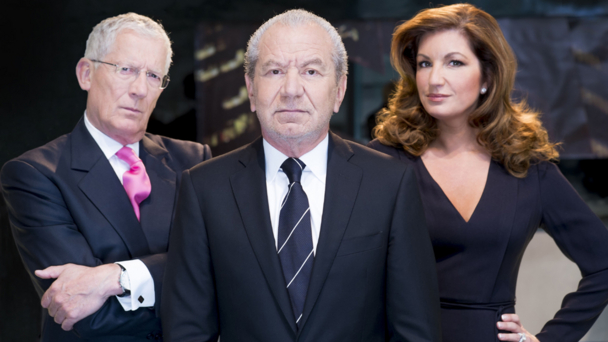 The Apprentice 2013 returns on Tuesday 7 May 2013 at 9pm on BBC One for a ninth award winning season, as Lord Sugar and his advisors put 16 new candidates through the toughest business test going.
Viewers will be treated to a double dose of boardroom drama as the second episode airs on Wednesday 8 May, with the series then continuing on Wednesdays at 9pm on BBC One.
Sixteen determined candidates will compete to stay out of the firing line for 12 weeks in a bid to win Lord Sugar's £250,000 investment. They must demonstrate business sense, creativity and leadership in order to impress Lord Sugar, Nick and Karren, but only one applicant will triumph and become Lord Sugar's next business partner.
This year, the candidates will reveal their business ideas right from the start of the process, not only creating an additional level of competition between the applicants but also challenging them to prove they have the skills to succeed in the business they are pitching to Lord Sugar. Will those planning a catering business come out top in a food task? Or those pushing a sales–based business succeed in shaking hands on the best deal?
This year's budding business partners come from a diverse range of careers and backgrounds, from catering, leisure and recruitment to property, medicine and academia.
East End boy and entrepreneur, Lord Sugar started from modest beginnings to build a global business empire worth millions. He says: "This process is not about a job, it is about me ploughing £250,000 into a business. This is an unbelievable opportunity. For me to choose you, you've got to be brilliant."
Lord Sugar is once again joined by his trusted advisors Karren Brady and Nick Hewer, who are on hand to observe the candidates throughout the process and report back on the successes and failures within each task.
As Lord Sugar greets the candidates in the boardroom for the first time, he explains what he expects from them in order for them to succeed from week to week: "As you can see, I've got a pile of CVs here – it's full of the usual BS. You know, 'I'll give 110%, I'm the greatest entrepreneur since sliced bread, failure's not an option, I think outside the box, inside the bleeding box.' All those usual clichés. I'm sick and tired of all that rubbish to be perfectly honest with you, because I believe actions speak louder than words. And it's going to be actions that I'm going to judge you on. Now the aim of this process is to get your business plans in front of me. The tasks are there to test you and take you through every facet in business."
The first task kicks off at midnight with Lord Sugar asking the candidates to sell a shipping container load of goods to London's trade in just one day. From novelty items to household necessities, each team must find suitable buyers for their different product lines and the team that makes the most money from the day's sales will be declared the winner. Split into boys v girls, which team will avoid a trip to the Losers' Cafe in their first week? It's a super-sized straightforward selling task but Lord Sugar throws in a surprise twist right at the beginning, proving that the candidates can never be certain what to expect from the multi-millionaire tycoon.
The candidates will be put through their paces every week by a range of challenging tasks, from creating and branding their own flavoured beer and selling caravans, to putting together a corporate away-day for some very big clients. At the end of each day they will go home to their luxury town house in Central London, enjoying a taste of the high-end lifestyle that a successful business can make a reality.
But, as always, it ends in the boardroom. After each task, the losing team will return to face Lord Sugar and battle it out to keep their place in the process, before one candidate will hear the infamous words 'You're Fired'.
The ever-popular companion show The Apprentice: You're Fired! will also return to air immediately after the main series on BBC Two. Host Dara O Briain will reflect on the fired candidate's time on the show, asking for their insight on their best and worst moments, as they are interrogated by a panel of business experts and celebrity fans.
The Apprentice 2013 official website – bbc.co.uk/apprentice – will host candidate biographies and information about the series alongside preview clips of upcoming episodes. Also hosted on the site, The Apprentice super-fan, TV and radio presenter Matt Edmondson, will catch up with each fired candidate for a weekly high-pressure, post-exit interview with a difference in Matt Edmondson's Awkward Conversations. This year, YouTube superstars The Brett Domino Trio will join forces with Radio 1's Dan and Phil for a one-off video introducing the new candidates in three minutes of catchy, original pop music, featuring excerpts from the candidates' audition tapes.
You can catch up with all The Apprentice action on the official Apprentice Twitter (@bbcapprentice) and Facebook (facebook.com/BBCApprentice)
The Apprentice is a Boundless production for BBC One. Cate Hall is the Executive Producer; Francesca Maudslay is the Series Editor and Jo Wallace is the Executive Producer for the BBC.
After the first episode on Tuesday 7 May, The Apprentice 2013 will air on BBC One on Wednesdays at 9pm, from 8 May.